This is the Judo blog of Lance Wicks. In this blog I cover mainly Judo and related topics. My Personal blog is over at
LanceWicks.com
where I cover more geeky topics. Please do leave comments on what you read or use the
Contact Me form
to send me an email with your thoughts and ideas.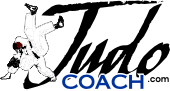 JudoCoach.com Blog by Lance Wicks
---
---
Hi all,
well today was the first of our deadlines, we had to get that first assignment in. I have done so and am now considering relaxing for a few hours before having a final shot at that poster, which presents my research from the 2006 Commonwealth Judo Tournament.
Today started in the Dojo, with Juergen Klinger. Who we had for "Player Analysis". Thankfully, he wisely set us a quick group activity to watch a fight between a French fighter & Russian fighter.
We had to then in our small groups, had to analyse the French player as the scenario was that one of our players would be fighting him next. Obviously then we had to provide some tactics and explain them back to the full group.
It was interesting to do, as it showed that much of what we have been learning in lectures is directly applicable to a real world Judo situation. Things like the notation systems we have looked at were valuable as it gives you a framework through which to work. Having "a system" is really helpful. We can all use our experience and intuition, but having a system I think provides a more solid base to allow your abilities to work on.
It was also interesting to see how different people and groups approached the task. One group took it from the Opponent, our group for example discussed/presented how our (hypothetical) player fought first and then applied that to the situation. We also considered the "Plan B" situation for when the strategy failed, while others spent more time on detailing "Plan A".
The more I learn about Juergen the more I am impressed by his approach to Judo and helping athletes.
Afterwards, we had an interesting talk and demonstration by Jon Moore on the
Sportscode
which is a great piece of video analysis software. Which got everyone's imagination fired up. It is interesting o me as I am a computer person of course and also interested in statistical analysis and simulation.
Jon covered some of the larger picture ideas around using the software for video streams etc. Which were great, but a little one sided and as he openly admitted, he is not a computer guy so I felt a bit worried that the enthusiasm for his ideas might be a little dangerous if not reviewed and considered carefully. I have asked a couple of influential people to make sure they talk to me before they look further at what they are proposing as I worry that a lot of money could be invested in better ways with a little imagination and IT literacy which I would hope I could help ensure were considered along with a purely commercial offering.
The afternoon sessions were fairly uneventful, lots of more "nuts and bolts" of getting the specific assignments we have to complete done and dusted.
It is Friday here, so many people are escaping for the weekend. I sadly am staying here all weekend for a variety of weekend. Not least of the reasons is the amount of work that needs to be completed in the following week. I am hoping to really get most of it done over the weekend.
Many of us have the impression that this block will be quite difficult to get good grades on, so I am nervous as I need to ensure a suitable grade average for the year to make it through to next year. Grades is a bit of a sore point at present as with the returning of our last set of assignments there were some fairly annoyed people, a couple of cases people were very upset with some harsh grading. One tutor in particular seems to have been "the culprit". This tutor did throw some comments into my assignments that I was not sure where they were coming from and in places I did not agree with. But, I did okay so i am not in the camp who are considering asking the tutor on the tatami for a quick Randori. :)
Anyway.... week one down, one to go!
<<First
<Back
| 61 | 62 | 63 | 64 | 65 | 66 | 67 | 68 | 69 | 70 |
Next>
Last>>