This is the Judo blog of Lance Wicks. In this blog I cover mainly Judo and related topics. My Personal blog is over at
LanceWicks.com
where I cover more geeky topics. Please do leave comments on what you read or use the
Contact Me form
to send me an email with your thoughts and ideas.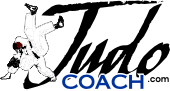 JudoCoach.com Blog by Lance Wicks
---
---
Well, with the 2008 World Masters Judo Championships less than 2 months away it is good to have been back in the gym today.
I have joined a local Gym near where I live, I previous was a member of a small gym near the office, but am hoping that being closer to home it'll fit better with home life.
I haven't done any gym work since last year, so I am just doing a quite general programme for a few weeks to get the muscles back into the swing. I am focussing on upper body as that is where I am weakest. So only squats for the legs really, though I am doing some running and rowing also. Then for now it is simple lat pulldowns, chest press, shoulder press really. It's partially my wanting to start general and part the gym wanting to make sure everyone does a general programme. I'd love to argue the point, but I'm not in the shape to argue ;-)
I'd love to find a
www.crossfit.com
gym around here, but sadly none near by.
Anyway, my normal issues with blokes with big/massive biceps and delts and pot bellies. The downside of a general fitness gym. Sports gyms are so much better. If you are a body builder go to a body builders gym and leave the recreational gyms alone. You don't impress the ladies here sorry mate. And you don't impress anyone with a background in sport or training, if you want to do the big boy weights, and get the big body builder physique, go to a body builders gym and let them tear you apart.
Ah well, at least there was no one there who felt the need to wear a weights belt and gloves to work on the weights machines. ;-)
Finally, sorry to be such a begger, but it'd really appreciate it if you'd consider donating to the 2008 World Masters campaign.
DONATE HERE
Any donations go towards the whole team not just me. There are four of us going over and as you can imagine it is quite financially difficult to fly there, get accomodation, etc etc.
Better yet, we'd love to secure some corporate sponsors, if your firm would be interested please do contact me (
lw@judocoach.com
).
for more info on the team and to stay up to date with the latest news try our new website over at
www.teamnzjudo.com
Thanks Lance
<<First
<Back
| 43 | 44 | 45 | 46 | 47 | 48 | 49 | 50 | 51 | 52 |
Next>
Last>>