This is the Judo blog of Lance Wicks. In this blog I cover mainly Judo and related topics. My Personal blog is over at
LanceWicks.com
where I cover more geeky topics. Please do leave comments on what you read or use the
Contact Me form
to send me an email with your thoughts and ideas.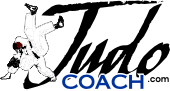 JudoCoach.com Blog by Lance Wicks
---
---
I have not done "proper" judo since March 2020, due to COVID-19. I work from home as a software developer.
Why am I telling you this? Because typing all day at a desk can be really hard of your shoulders (well my shoulders and specifically my left shoulder).
One thing I have been doing for the duration of the pandemic is the
Seiryoku-Zenyo-Kokumin-Taiiku Kata
; at least the Tandoku-renshu (solo) section.
I think that the Italian Judo federation perhaps promoted the kata during the lockdowns, because there are lots of videos from Italy. The specific one I have used, a lot, is this one:
The range of motion is really good. It's really quite good at loosening my shoulder. It's almost like it was developed as a form of physical therapy/education. ;-)
Interestingly, when I had issues with my shoulder a few years ago the physio gave me a series of exercises that are very similar in motion to the kata.Shoulders and neck and spine.
I did try learning Tai Chi... but damn Tai Chi is complicated. Much less repetition than I expected, a long stream of movements. It did not click with me. Qigong was much easier... but it's not Judo. :-)
I can recommend giving the SZKT kata a try.
The video above is really good (I found it to be so anyway), but there are lots of others.
Definitely watch the one linked to from the Kodokan:
https://www.youtube.com/watch?v=uvqxiXiA9eM
| 1 | 2 | 3 | 4 | 5 | 6 | 7 | 8 | 9 | 10 |
Next>
Last>>