This is the Judo blog of Lance Wicks. In this blog I cover mainly Judo and related topics. My Personal blog is over at
LanceWicks.com
where I cover more geeky topics. Please do leave comments on what you read or use the
Contact Me form
to send me an email with your thoughts and ideas.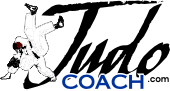 JudoCoach.com Blog by Lance Wicks
---
---
In this video on Youtube we see a demonstration of Nage no Kata from Japan (http://uk.youtube.com/watch?v=dnsZRxFsUpQ ).



As the title of this post says, I don't like this Kata demonstration and here is why.

The Kata is dead, there is no life to the two people demonstrating. There is no clear demonstration of the principles of Judo.

If we take the first throw for example. Uke takes a grip, then both people step together. They take their steps and Tori drops on one knee and Uke falls and does Ukemi.

They are Japanese 6th Dans, I am a mere Kiwi Ni-Dan. Who am I to criticise.

But I am going to! :-)
My issue with this demonstration is that Uke does not attack Tori. He does not start the movement, he does not push Tori.

Tori does not "accept" the attack then on the second step draw Uke onwards, taking control of Uke's balance.

Tori drops on one knee and Uke somersaults. Tori is not throwing, Uke would not have fallen if he did not throw himself.

To me, this is why I do not like this demonstration. To me it is an example of why people go off Kata. It is formal walking through of the Kata. As opposed to a demonstration of the principles and techniques of Judo.

I could be wrong, I am no "expert" in Kata. This is just my interpretation of what I see and what I believe.

What do you think?



<<First
<Back
| 31 | 32 | 33 | 34 | 35 | 36 | 37 | 38 | 39 | 40 |
Next>
Last>>