This is the Judo blog of Lance Wicks. In this blog I cover mainly Judo and related topics. My Personal blog is over at
LanceWicks.com
where I cover more geeky topics. Please do leave comments on what you read or use the
Contact Me form
to send me an email with your thoughts and ideas.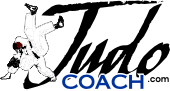 JudoCoach.com Blog by Lance Wicks
---
---
I had a rather beutiful moment with my daughter this weekend. We had our first Judo session with us both in gi.

I play with my kids in my dojo now and then, they like to throw themselves about and it took them about 3 seconds to work out the floor does not hurt out there. So on Saturday a good friend sent through two suits for my twins, amazing little Essimo suits with this cute little cartoon Judoka on them.


So after allowing myself to be badgered into it, I went out and played Judo with Cassie. We had a ball, it has been one of the highlights for me in their short lives. I suppose all Judo parents have that desire to be on the tatami with their kids. So it was a huge "tears in my eyes" moment for me!

Cassie really wanted to go to "real Judo" so we took her and here brother to the local club tonight. Just to be turned away at the door as they don't have any kids as young/small as mine.

It is a symptom perhaps of the trend in British Judo to have clubs running out of sports centres. They rent by the hour, and facilities are booked pretty tight, so they don't have the time to have a young kids class.

Personally, I think it is a real shame as my two are just reaching the point where their motor skills are getting good. That stage where they are clode to choosing sports to participate in.

Unlike other sports (that they are involved in), Judo structures things to start at 6 (basically) years in the BJA as a start age. Quite late I feel, my kids will have been in school for 1-2 years before Judo will accept them.

Luckily Daddy will probably start actually holding regular classes soon, which may include a young kids class for the sake of my two if no one else. :)

So ups and downs. Full credit to my twins for handling not being able to join the "real judo" with grace despite being very disapointed.

But what a high, letting your daughter execute a beutiful Ippon Seoi Nage on you for the first time in her first Judogi. Standing Seoi by the way, not some drop seoi rubbish! ;)

Video footage shall follow.

Lance


Comments
---
Comments are not available for this entry.