This is the Judo blog of Lance Wicks. In this blog I cover mainly Judo and related topics. My Personal blog is over at
LanceWicks.com
where I cover more geeky topics. Please do leave comments on what you read or use the
Contact Me form
to send me an email with your thoughts and ideas.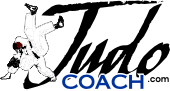 JudoCoach.com Blog by Lance Wicks
---
---
Hi all, been a bit quiet, sorry folks. But I am pleased to say that I have recorded and started editing a new podcast with Emerson Franchini from Sau Paulo, Brazil!

Emerson is a University lecturer and Judo researcher as well as a conditioning and fitness coach. He has done considerable research on the elite players of Brazil, including those who competed in the Athens Olympic games.

We discuss his work with our very first podcast guest, Stanislaw Sterkowicz. He also in the second half of the interview gives some really practical and useful tips on fitness training for Judo athletes based on what he has learned from his work with athletes and his research.

Unfortunately the audio was a little bad. Partly because of techincal reasons and partially because it was raining heavily in Brazil when we were recording. (Okay... yes it was raining here in the UK also.)

So, I shall hopefully have that completed tomorrow night on the podcast!

Lance


Comments
---
Comments are not available for this entry.